Retail Metrics Same Store Sales Monthly Upside/Downside Surprise
Retail Metrics delivers one research report each month highlighting those retailers and retailing segments that are routinely exceeding or missing Wall Street forecasts.

This provides trend or momentum oriented investors with another important input into their investment decisions.

Surprise Data Sample
If you would like to view a sample Surprise Data Report for March 2006, please download this PDF file.
Same Store Sales Surprise Trends
History suggests that once a retailer has turned in a several consecutive months of positive or negative surprise, that trend remains in place for some time. Retail Metrics provides current and historical monthly same store sales surprise data for both individual retailers as well as for aggregate retail indices.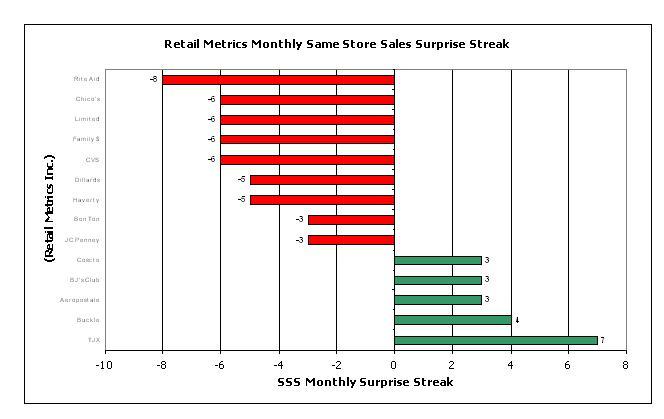 Retail Metrics provides its institutional clients with:
· Long term average monthly surprise data for individual retailers and aggregate indices
· 3-month, 6-month, & 12-month moving surprise averages
· Positive/negative surprise streaks (consecutive months of upside/downside surprise)
· Positive-to-Negative surprise ratios