RetailMetrics Consensus Same Store Sales Estimates & Analysis
Retail Metrics provides institutional investors that routinely trade retail equities or hold significant positions in the consumer space with a unique research offering to assist in their investment decisions.

Retail Metrics generates consensus same store sales estimates from Wall Street retail industry analystsí forecasts for most major U.S. publicly traded retailers, providing institutional investors with a one-stop shop for same store sales data.

Same Store Sales Estimates
To view a sample Same Store Sales Estimates report, please download this PDF file.
Retail Metrics Consensus Same Store Sales Estimate Sample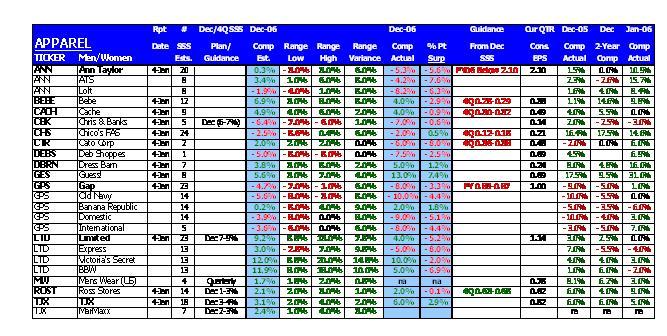 RetailMetrics Index &

Sub-Industry Consensus Same Store Sales Estimate Sample

Why Same Store Sales Estimates are important:
1.

Extensive feedback from both the buy-side and the sell-side, retail traders, as well as publicly traded retailers themselves, indicate that retail stocks tend to trade on same store sales performance more than any other metric.
2.
Monthly same store sales estimates offer investors 12 key performance indicators annually to utilize in their investment decision process as opposed to just 4 quarterly figures for virtually all other data points (EPS, Sales, EBITDA, CFPS, etc).
3.

Retail same store sales are a key metric for gauging a retailerís underlying health and organic growth.
4.

Comparable store sales provide supplemental data regarding the general health of U.S. consumer spending.
Retail Metrics Same Store Sales Index Growth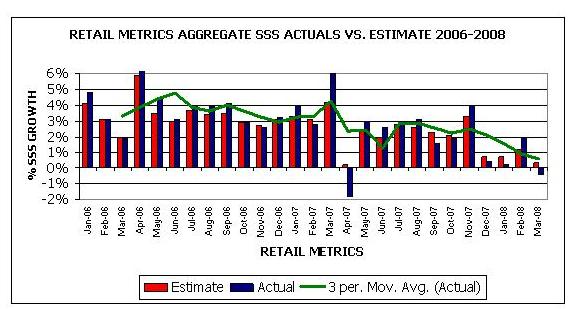 Retail Metrics